Popular among adults and kids alike, this deliciously sweet favorite is a treat for all seasons. It is reasonably easy and fun to make, as well as a little messy. You can also have fun with licking your fingers after everything is done and time for cleanup. Face it, all kids love licking their fingers…but so do adults. 🙂
Need to know how to make Rice Krispie treats? Click here << for some great recipe ideas.
Here are some more real "fun ideas" for Rice Krispies halloween treats that your kids will love… and so will you. These are fun and colorful ways to make Rice Krispies halloween treats that your kids will be begging for more.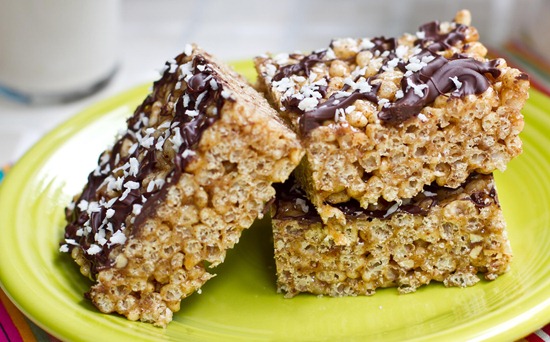 Almond Butter Rice Krispies Treats pictured above here with the recipe below…
Adapted from Peanut Butter Chocolate Rice Krispies recipe.
Yield: 12 squares
Ingredients:
1/2 cup chunky almond butter*
1/2 cup brown rice syrup*
1 tbsp pure vanilla extract
1 tbsp Earth Balance (or non-dairy spread)
1/2 tsp kosher salt, or to taste
3.5 cups Nature's Path GF Rice Krisp Cereal
Chocolate drizzle: 1/4-1/2 cup chocolate chips, 1 tbsp almond butter, pinch salt
Shredded coconut, to garnish
Directions:
1. Prepare an 8 inch by 8 inch square pan, by lining it with parchment paper on both sides.
2. In a large pot over low-medium heat, add the brown rice syrup, Earth Balance, almond butter, and salt. Stir well until combined and heated through. Remove from heat and stir in vanilla extract.
3.. Stir in 3.5 cups of rice crisp cereal until thoroughly combined.
4. Scoop into pan and spread evenly. Press down with fingers or roll flat with pastry roller. Place in freezer to set for 5 minutes while you make the chocolate glaze.
5. In a microwave safe bowl, add the chocolate chips. Microwave for about 60 seconds, stirring after 30 seconds. Be careful not to burn. Stir in the almond butter and pinch of salt.
6. Remove pan from freezer and drizzle or spread with melted chocolate mixture. Sprinkle with coconut and place in the freezer until firm, about 15 minutes. Slice into squares. Bars will hold their shape quite well at room temperature, but you can store in the fridge to ensure the chocolate stays solid.
Notes: 1) You can use any nut butter you like. If you use a smooth variety, you can add some chopped nuts for more crunch. 2) Brown rice syrup is used in this recipe because it is a great binder and it holds together these treats. If you use another liquid sweetener, I can't guarantee that they will hold together as well.
Make this Halloween even more fun for your kids by allowing them to help you in the kitchen create some of the best Halloween Snacks ever. These Halloween snacks for kids are healthy, fun, and finger lickin good. Oh, and they are not just for kids…lol.
Check out these healthy rice krispies snacks here <<.
Getting into healthy habits is always a great idea. Starting the day off right with a good breakfast is always a great idea. The breakfast boost! This will set the stage for the rest of the day for you and your child. Here is a free pdf << that you can download for breakfast boost ideas.
Enjoy!
.
.